Make a Donation
The individuals and organizations listed below are contributors to the Civil War Flag Preservation Trust. Monies within the Civil War account go toward active conservation, as well as maintenance and upkeep of the climate control systems for the flag facility.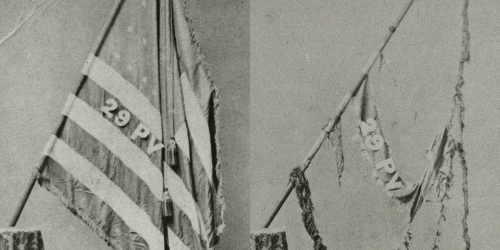 In 2012-13, monies from the flag account were used to conserve the regimental flag of the 29th PA Vols. Currently, there are 43 colors classified as severe, and in need of future conservation work to ensure their long-term preservation.
Current Donors/Sponsors
Dauphin County Community and Economic Development
Delaware Valley Civil War Roundtable
88th PA Vol. Infantry
Eric Fillman
Friends of Camp Geiger
Harrisburg Area Community College
The Howell Trust
Eddie Kline
Emily Johnson
Leonard and Cathryn Kalata
Annette and Larry Keener-Farley
William Kimmich
Brian McGowan
Morning Star Christian School
PMA Graduate Studies
Gary Peacock
Penn's Woods Painters
Pam Shaulis
Karl Smith
WITF
Women's Committee
If you, or your organization are interested in making a donation toward the continued preservation of Pennsylvania's Civil War flags, please contact the Capitol Preservation Committee at 717-783-6484. Donations of any amount are greatly appreciated!
If mailing a check, please make checks payable to "PA CPC, Civil War Flag Account"
Pennsylvania Capitol Preservation Committee
Room 630 Main Capitol
P.O. Box 202231
Harrisburg, PA 17120
PA Capitol Preservation Committee | Room 630 Main Capitol Building | Harrisburg, PA 17120